Effective Learning for the Dental Team
"If Someone Comes Up with a Revolutionary New Concept to Make Your Job Easier. . .
Do You Feel Guilty?"
As a dentist, you're doing a job that's extremely difficult and exacting. It's supposed to be that way. That's why you went through so much training to become a professional. You feel good that you are able to master such complex issues.
What if you attend a Dental Workshop and learn a revolutionary new concept that could make your job easier? You would feel guilty, wouldn't you? Your job is not supposed to be easy.
Do you remember these changes?
the slow-speed drill to the high-speed handpiece
the blister-inducing, callous forming old style endo to modern engine driven endodontics
hard-to-use x-ray films to digital x-rays?
Would you go back?
Dental Programs by with Splash!™
Our dental programs introduce new concepts for the dentist, the dental hygienist, the dental assistant, the treatment coordinator, and the front-desk person, i.e., the entire dental team.
New concepts and change can be frightening, yet they can also be fun and exhilarating. Change keeps your office alive as you learn new ways of helping your patients.
Small, Intimate Gatherings. . .Cozy!
Our meetings are small and friendly so you won't ever feel overwhelmed or intimidated. You can ask questions and not feel embarrassed. You can say things like, "I'm thinking of trying it 'this way,' how do you think that would work?"
When you feel comfortable, your mind is more open to learning and therefore, you can think about how those new concepts would work in your practice.
Well-thought out change can result in increased productivity and profitability for your office when you get back home and implement it.
"I think this is going to be huge for our office! Program was very well done. Thank you. Thank you."
Workshop Participant Evaluation Form
Meet Other Bright Dental Professionals
Our meetings attract bright people who are going somewhere in their lives and practices. You can get to know kindred spirits who you like, admire, and can relate to. These are people that you will want to continue corresponding with and learning from after the workshop. You will no longer feel professionally isolated!
Learn from Experts. . . People Who Are Actually Making the Concept Work
Our speakers are people who know what they're talking about and are actually making their concepts work in their own practices. If someone is "making it work" in their office, the probability is high that you'll also be able to make it work in your own office.
The dentist no longer has to feel that she's a "one-man show." Your team learns new ideas and helps you implement them when you return home. You can continue to e-mail the speakers after the workshop, if you need additional help.
You no longer have to feel you're alone.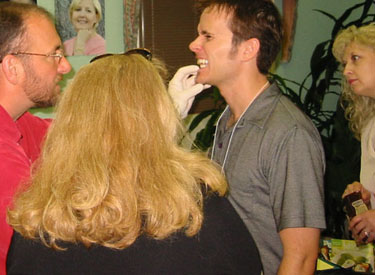 Participants at a with Splash!™ Workshop
Leading-Edge Learning (Not Warmed Over Pablum)
If you've been keeping up with continuing education since you opened your practice, you'll be glad to know that you won't be hearing the same thing you've heard before.
New concepts you learn, will keep you ahead of your competition back in your community. As you begin to implement these changes in your practice, you will attract more patients. You will begin to feel good about your practice again. You'll be more productive and more profitable.
As you become more profitable, you'll have more money to put back into your practice to upgrade your equipment and you'll have more money to bonus out and to take home for those extra little "luxuries."
Eat Meals Together
Meals are included as part of the workshop. You won't have to worry about rushing to a restaurant or eating alone. You will feel more connected to those "kindred sprits" you meet.
When you join others for a meal and get to know them, it's easier to envision those behavioral changes you want to make in your own office as you feel free enough to talk it out with others.
Learn New Concepts
You'll feel good as you stay abreast of the new developments in the field of dentistry. You will be learn about new systems of behavior for your office that have proven to increase productivity in other offices.
Stay ahead of your local competition as you increase your patient flow. As you develop a new system for handling people in your office, you are allowing your patients to assign a higher value to the dentistry you have to offer.
Patients get excited about the possibilities. Your office atmosphere becomes fun and exciting. There's a renewal of the passion of your profession and almost as a side note, you become more productive.
Workshops Currently Scheduled
DTR
October 2-3, 2015
Dr. Rick Coker's Smile Studio, Tyler, TX